What Country Has a Computer
for Every 6,000 People ?
(Business Week 9 - 13, 1993)
Chinese Input Methods
- Analysis & Comparison -
CONTENT
I. Classification:
a. Radical - Full of character di-secting problems,
User-Unfriendly.

b. Phonetic - Full of
dialectal
&
character-searching
problems, User-Unfriendly.

c. Digital - Scientific, simple, & easy.
Good for
Desktop & Handheld
and
Traditional & Simplified Chinese
both.
User-Friendly
GeoStroke A 10-key New invention

II. Mainland, China PinYin, WuBi, ...

III. Island Taiwan, China ZuYin, CheongChi, TaYi, Parallel, ...

IV. HongKong, China CKC, Q9, ...

V. Computer Statistics of China

After some 20 years' hard work,
where are we standing now ?

WHY ?????

UN-FRIENDLY and LOW-EFFICIENCY Input Systems are used.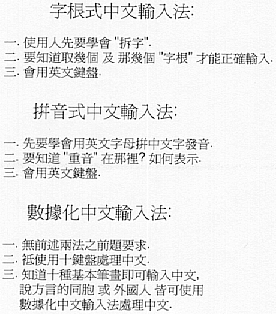 Comparison of Major Input Systems
Input Codes Comparison:
WuBi
Simplified Chinese (GB Fonts)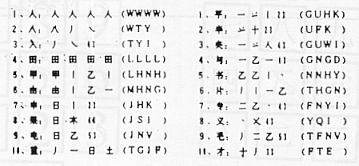 CheongChi
Traditional Chinese (Big-5 Fonts)


PinYin
Simplified Chinese (GB)


ZuYin
Traditional Chinese (Big-5)


GeoStroke
Digitizing A Character
No Memorizing of Any Kind Is Required !
GeoStroke Can Handle Easily
Simplified & Traditional Chinese Both.

The Least Amount of Effort Is Needed to Input
Chinese, Japanese, or Korean Language.

Using 10-key pad, simple & easy,
it takes only 5 minutes to learn.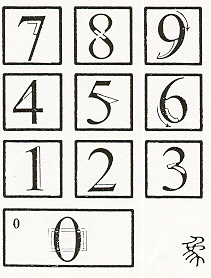 Stroke Chart Simple Rules STRATEGICAL Stroke is the "Input Code"

Try-Out Field
GeoStroke in English US Patent / Design Theory Manual in English

GeoStroke in Chinese China Patent / Design Theory
Manual in Traditional Chinese Manual in Simplified Chinese
Chinese, Japanese, and Korean


The Only System Which Can Handle
Both Simplifed & Traditional Chinese.
* * * * *
Most Learnt Chinese on Both Shores
Are Illiterate of Any
Chinese Input Method.
Do not know
how to use a Chinese computer
to communicate on net!
Beijing approved GeoStroke's patent on 7 - 19, 2002, ZL 95101513.3 / 94793,
this will help the most learnt on both shores manage their computers easily,
stop wasting the precious MANPOWER !!!

A Glance of
All Chinese Keyboards
StrokZz.html
Foruto.com
ZuPin.html
210 Examples of Unique-Sounded Chinese Characters
Daily-Used Characters Vs. Limited Computer Fonts
Casual-User GeoStroke
Professional GeoStroke
Coding All Chinese Characters with
Only 10 # Keys
Mainland, China :
(1) Radical WuBi - Radical Approach
a. Must learn how to analyze a Chinese character correctly first.
b. Know how to sectionalize a character, and
to pick right radical(s) to make a correct "inputting".
c. Must know the English keyboard well.

Operation Systems: swin3.2/95/98/2000/2002XP, Chinese Linux, ...
Font: GB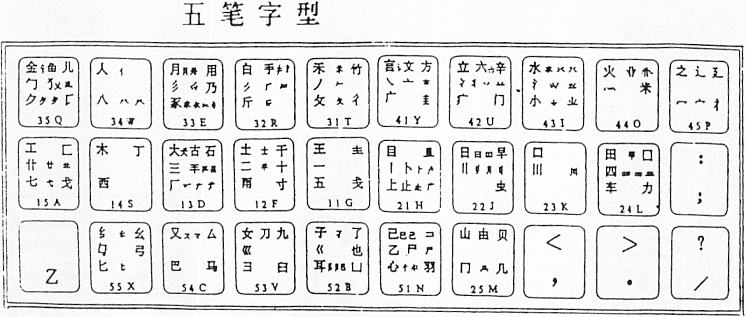 Radical Method Has More Annoying Problems !!!!!
* * *
(2) Pin Yin - Phonetical Approach
a. First, must learn to be a good linguist using English alphabets.
b. Must know the intonation of every character well.
c. Must know the English keyboard well.



Standard English Keyboard
According to statistics, approximate 93% of the computer population
prefer to suffer the tideous multiple-character problem
to use the phonetic System (PinYin or ZuYin),
as the radical systems are too difficult to handle.
* * *
(3) Chinese Character Processing,
GeoStroke
- Digital Approach (10-typical-stroke Based) :
a. User does not have to know any of the pre-requests of
the above two methods.
b. Using 10-key pad only to process Chinese.
c. Those who know the basic strokes can input Chinese,
dialect-speaking folks or foreigners
do not have any problem to manage Chinese
with GeoStroke on a computer.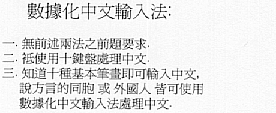 Stroke Is Input Code,
No Compulsory Memory.
Simple Rules
The most effective way to input Chinese.
It takes only 5 minutes to learn, the basic strokes are the nunbers.
Using stardard keyboard in cities, or
Chinese-number 10-key Pad in rural areas.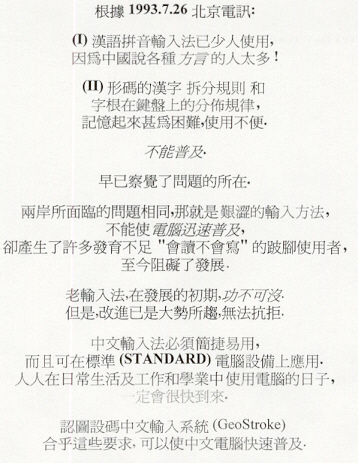 GeoStroke,
an EZ-to-Learn & EZ-to-Use practical method for both
Computer Population
&
General Population
is thus urgently needed.
Z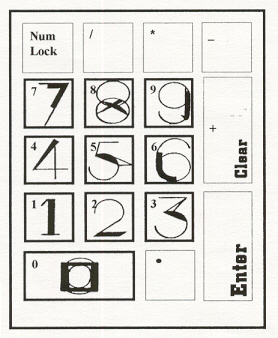 A Basic Stroke Is Dissolved into a Digital Number
by
Geometrical Similarity
for Users' EZ Recognition & Application.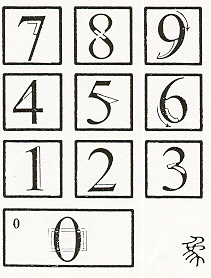 As you can see, the stroke is the number.
User can manage the "input code" of a character easily.
Using 10-key Pad to process Chinese
* * *
FIVE-STROKE
Digital WuBi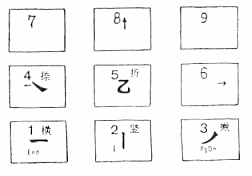 Mixed Stroke & Radical
Digital System
Islands, China :
Operation Systems: cwin3.1/95/98/2000, Chinese Linux, ...
Font: Big-5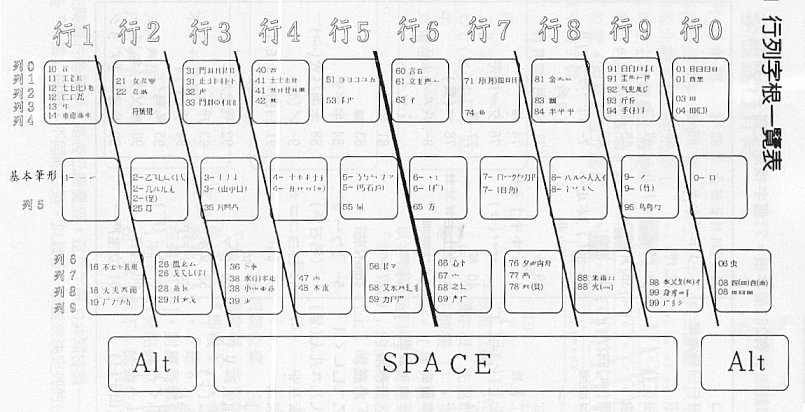 HongKong, China :
Operation Systems: cwin3.1/95/98/2000 Font: Big-5
swin3.2/95/98/2000 Font: GB

See Mainland,China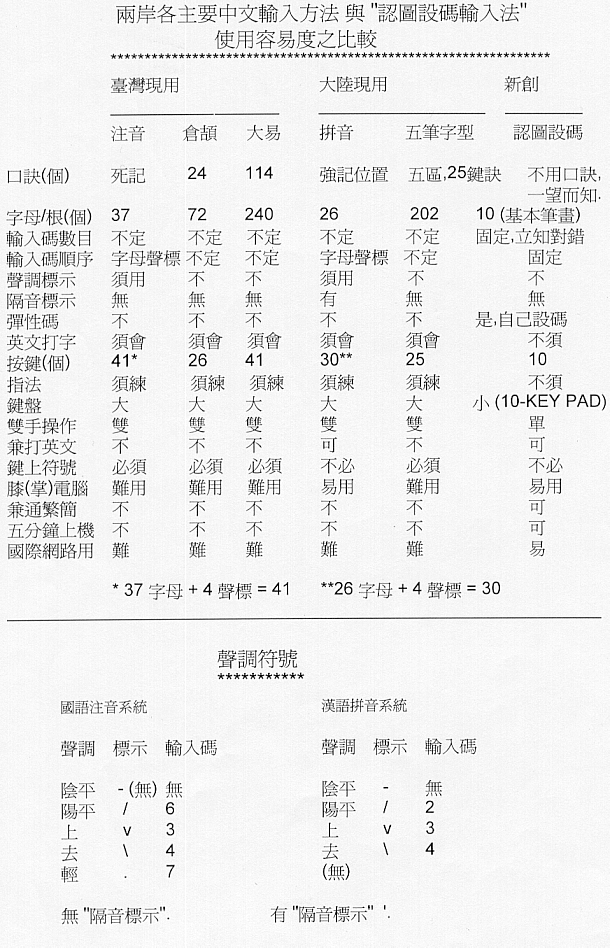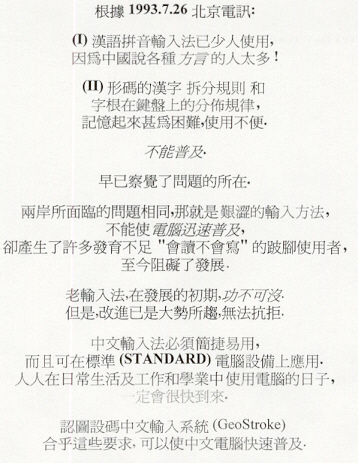 What Is GeoStroke ?
How Easy Is It ?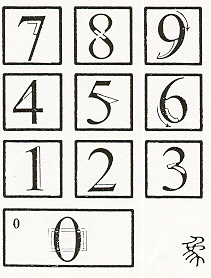 This 10-key PAD is all you need to process Chinese !
New Invention :
GeoStroke
A 10-key Chinese Input System
It Works for Big-5 & GB Fonts both.
Its Input Codes are Transparent in Both Directions !!!
In other words,
when in GB environment, if forget how to write a GB character, user can always code
against its Big-5 character counterpart;
when in Big-5 environment, if forget how to write a Big-5 character, user can always code
against its GB character counterpart.
No any other system can match this feature
which provides tremendous convenience to users worldwide.
Operation System :
Different Version is available for:

cwin3.1/95/98 (Islands & Overseas)
&
swin3.2/95/98 (Mainland)



GeoStroke Chinese Input System
Classifies all Chinese Strokes into
10 Basic Categories :
GeoStroke
For an ordinary learnt Chinese
it takes only 3 minutes to get started.
A flexible, easy, & friendly
10-key Digital Chinese Input System It leaves a user's "brain" & "fingers" completely relaxed all the time,
so that he / she can concentrate on
creating & composing.
A typical / basic stroke is
" dissolved " into
a number with
obviously "geometrical similarity".
It is recognizable by
"intiution"
instantly when do typing.
Traditional*
Simplified*
Cursive
User-Definable Coding (Users' Own Input Code)
Code a Chinese Character with Your Very Own "Code"
GIF
~~~~~~~~~~
* GeoStroke's traditional & simplified "inputting codes"
are transparent in both directions, also
they are user-definable**.
** It is flexible. User can set his own code within a reason.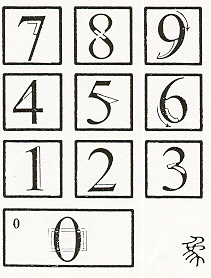 CHINA Statistics:
1982


1993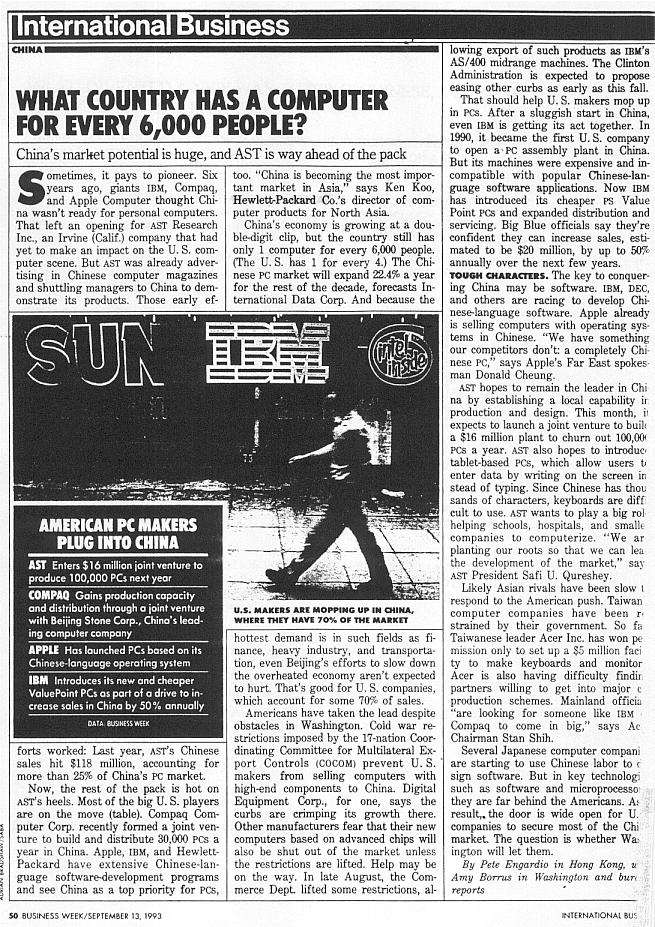 1996 - 97


PC Ratio: 0.25% (PC Qty: 3 Million)
Internet Population: 150,000 or 0.0125%

China Population: 1.2 Billion

2000


2001


China Population: 1.26 Billion
Increased: 60 Million in this period!
Internet Population Increased: 21.0 Million only in this period

2002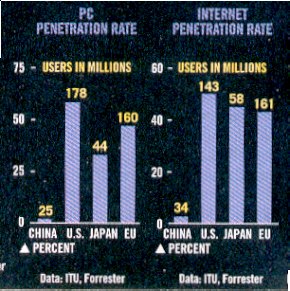 eWeek 10-28, 2002
These poor results were obtained
after some 20 years' intensive efforts !
What went wrong ?
Obviously it is the UNFRIENDLY
CHINESE INPUT METHOD used !
How Can We Improve ?

THE WORLD IS MOVING FORWARD RAPIDLY EVERY SECOND,
How Many More Years Can CHINA Wait ???!!!

Comment Welcome
Dasher - A new way to input alphabetical languages.